1. Start by opening up a 200 x 200 transparent image, and a 50 x 50 transparent image as well. Hold down your shift key and hit the D key to duplicate the 50 x 50 image.
2. Set your foreground colour to #800000 and your background colour to #C00000. Then go back to your background colour and hit the "gradient" tab, and select Foreground-Background gradient, Angle 90, Repeats 1.
3. Fill 1 of the 50 x 50 squares with your background gradient, and fill the other with white.
4. Click on the red square to activate it and go up to the "Edit" tab and choose "Copy". Then go to your 200 x 200 blank image and paste it in. Move it over to the left edge of your image. Repeat the above steps with the white square, then the red one, then white again, placing each square evenly with the next. Zoom in to see your image better. This is what it should look like.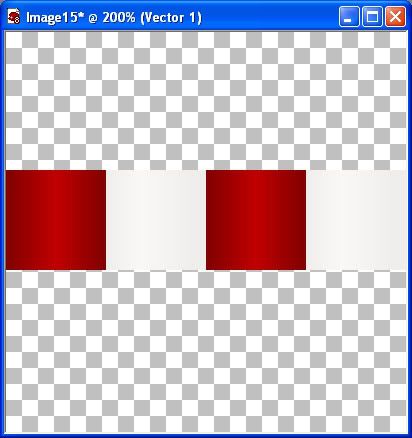 5. Next, we are going to do a green stripe. Change your foreground and background colour to #04AC04.
6. Select your pen tool, Segment Type= Line Segments, Create as vector checked, Line Width of 1 or 2 depending on the size of stripe you want, hold down your shift key and draw out a straight line that goes beyond your red and white checkers. Right click on that layer and select "Convert to raster layer". See picture below.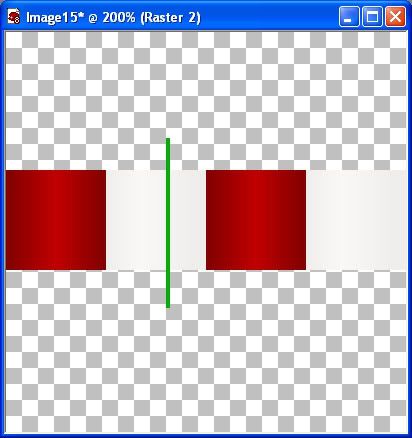 7. Set your foreground and background colour to #A00000, and follow the same above steps to get the red stripe.
8. Select your "Move" tool and place the red and green stripe side by side, evenly, on one of your white squares, then copy and paste the red and green stripes over to the other white square.
9. In your layer palette to the right, right click on one of the raster layers and select "Merge" then "Merge Visable".
10. Pull out the edges of your image so you can see the left and right squares and crop it all around very closely. Make sure not to leave any spaces or when you try and fill an image, it will not tile properly.
Now all you do is save it and if you want diagonal stripes, change the angle of the pattern to 45. Use it for page borders, background fills, frames ect....